"A Walking Trek on the Coast of Wales"
Depart U.S.  April 5th for London.
Completion: Return Flights from London on April 14th – or Stay On and Travel!
Cost: $1,950.00 USD – ($500.00 Deposit due at time of registering) Includes guides, facilitation, accommodations, breakfast each day and participants carry a lite day pack while their luggage is transported daily!
Pembrokeshire Coast Path Menu
Get on TREK! For centuries, people all over the world have chosen to walk as a way to see the world and themselves with new eyes. The Pembrokeshire Coast Path twists and turns its way through 186 miles of the most breathtaking coastal scenery in Britain. We will be "walking" a spectacular section of the path from Tenby to St. David's, all in Wales!
Every pilgrimage offers two journeys which happen on the same path. The first is the walking we will do. The second journey happens inside each of us, opening a path of self-reflection, helping us to see our future with a clarity that is often difficult when we are immersed in the regular routines of our daily life.
Each night, we will stop at an inn, sampling local food and culture. Evenings are the time for us to meet as a group, reflecting on our day and being guided through conversations that help us to see our gifts, our opportunities, and gain confidence in the path we choose to take when we return home.
This experience is designed for adults of all ages with average physical fitness who want to walk through beautiful countryside, experience culture that is new and exciting, and have reflective time away from the usual daily routines. Previous experience trekking is not necessary. We are using a specially-designed route that keeps us close to the ocean as much as possible, with periodic short train or bus hops around the more rugged terrain along the route. Although you will be tired at the end of the day, this is not an endurance test!!
Guides: Andrew Bryan and Bruce Anderson
Andrew's experience as a microprenueur has led him to a number of opportunities, from tutor to teacher, school administrator to educational consultant, coffee house owner, realtor, tourism marketing director, city councilor, school board chair, the list is varied and curious, but very much indicative of what led him to guiding international walking treks since 2011. His mind is always scanning the horizon for creative ways in which those he engages with can pursue their interests and build a path toward true inner and outer success. Andrew has realized this in himself through the development of walking treks and sharing these pilgrimages with others! He is, of course, supported in this endeavor by his much cherished and over sized Hoka One One trail shoes!
Bruce has spent more than two decades providing coaching, both nationally and internationally, to groups and individuals interested in using the Core Gifts method to identify and realize desirable futures. Bruce is known for bringing important timeless traditions from international cultures along with personal stories, humor and honed interpersonal skills to his role providing insights and guidance to others. He is an experienced outdoors person, having lived in remote Alaskan villages for many years and operating commercial fishing vessels. Bruce has been co-guiding European treks for the past three years.
Pilgrimage Schedule:
April 5th, Wednesday – Departure

Depart from destinations in the U.S.
April 6th, Thursday – London Heathrow arrivals and coordination.
Train ride to Tenby, Wales! We all gather and join for our first dinner together in the evening after an initial information and orientation session.
April 7th, Friday
Day: We will have a morning orientation and then do a six mile circular walk in the Tenby area, think beach! – We will have dinner as a group. Tenby is probably the most iconic seaside town in Wales, and, as an ancient walled city, the scenery is spectacular, overlooking a bay on one side and broad beach on the other! We are at the same hotel for two nights to begin our pilgrimage!


Evening: Our theme this first night is to get to know fellow trekkers through sharing stories. We will have a brief introduction to different types of trekking and the kind of reflection we will engage in during our journey, as well as a description of the purpose and outline for our evening discussions.
April 8th, Saturday – Tenby to Manorbrier
Day: We will start our third day together with a walk from Tenby to the Norman village of Manorbrier.  Here, we will literally start off with a long walk on the beach, and then up onto the bluffs along the ocean.  It is a spectacular walk, known for it's long vistas and beauty.  Coming around the corner to Manobrier, we see the ruins of our first castle at the ocean's edge.
Evening: During our evening discussion each trekker will identify the most important     "I stand by these" beliefs and principles they use to make decisions in their lives. Past trekkers have really appreciated the variety of belief systems and principles that are represented in the group.


April 9th, Sunday – Manorbrier to Stackpole Centre
Day: A very scenic and varied walk that takes in some of Pembrokeshire's most remarkable beaches. The numerous estuarine inlets and sheltered bays are a haven for wildlife so pack binoculars and a bird book. We'll stop at a small cafe for lunch at a small Quay, used for protecting boats from storms.  The finale, Stackpole nature preserve, is just magnificent.


Evening: Tonight we'll hear a story from hundreds of years ago that is exactly pointed at our current times. It explains the process that young people go through to discover who they are, and all the different things that can happen that get us off track.
April 10th, Monday – Stackpole Center
Day: Today is our layover day at Stackpole Center where we will spend time at the nature preserve!


Today we will also do our Core Gift Interviews! It is the centerpiece of our work to help each person identify his or her primary gift. Trekkers will learn the process and interview each other to create a Core Gift Statement. Past Trekkers have been both surprised and deeply grateful for the opportunity to clearly name what they see as the primary purpose of their life.
April 11th, Tuesday – Stackpole to Marloes
Day:  Wild and exposed headlands punctuated by some of Pembrokeshire's finest beaches. We walk to Angle on the edge of the penninsula and then ferry by boat around Skomer Island, docking for a short walk into Marloes!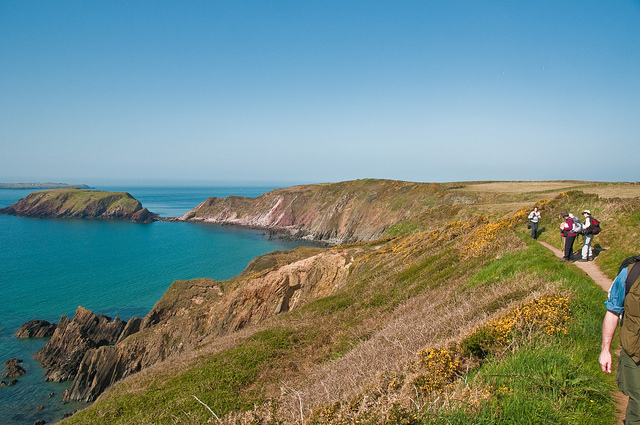 April 12th, Wednesday – Marloes to Broad Haven / Druidstone
Day:  We will make our way along the coast path through Broad Haven to Druidstone, an ancient site for rituals and festivals.  Along the way, we will walk beaches, hang out in little alcoves, and enjoy scenic vistas of the sea!
Evening: Tonight, trekkers help each other to identify a wide range of employment, education, and community service opportunities that are available as a result of knowing our Core Gifts and other talents.
April 13th, Thursday – Druidstone to St. David's
Day: This is one of the most popular sections of The Coast Path, with good reason. We walk the long beach at Newgale and then up onto the bluff to make our way to the artsy town of Solva and then to the cathedral city of St. David's.

Evening: Closing ceremony for our group. What did we learn that was expected and unexpected? What are our new plans when we get back home? How will we use this experience to strengthen our gifts and stay strong over the next few years?
April 14th, Friday – Return to London!
Day: Return to London (5 hours by train) for flights departing late that day or Saturday. The pilgrimage has now concluded, and trekkers schedule their own accommodations for the 14th and any other days they are staying in London and beyond!

Trek Map:
Frequently Asked Questions
What will the weather be like?
Of course, the weather is unpredictable, but the historical weather maps show an average April temperature in the low 60's during the day on the Pembrokeshire coast.
Will I need to get a lot of special gear?
No. You'll need some layered clothing, rain-gear, some sturdy boots or walking shoes, and a few other things. Once registered, we'll send you a standard detailed packing list.
Will I be carrying a heavy pack?
No. Your luggage will be transported each day by courier to our destination for that night. You will be bringing a small daypack to carry your snacks, rain-gear, and whatever else you might need for the day's walk.
What is the age range?
Adults over 32 are welcome to register.
I need to make my travel plans. What time do I need to be in London to meet the group, and what time will I be able to depart?
People will arrive and depart at different times due to individual travel itineraries, but plan on departing USA April 5th, and arriving at Paddington Train Station in London no later than 2pm on April 6th. We always have contingency plans for late arrivals and other travel issues that may arrise. You can depart anytime on Friday, April 14th from London. You will receive information about our arrival hotel and check-in procedure prior to departing the U.S.
How large is our group?
We are limiting the group to 8-10 participants and 2 guides. We have found over the past six years of trekking that this size allows for people to really get to know each other, yet is large enough for lots of variety of ideas and personal styles. Perfect size to maximize fun and learning.
Is this going to be physically demanding?
This is a walk, not an endurance test. Trek participants are generally tired at the end of the day, but not exhausted. We want you to still have energy at the end of the day so we can meet for our evening sessions without you falling asleep!
How many miles do we walk each day?
The daily mileage varies from 6-12 miles. We generally are walking between 9:00am-4:00pm, so we can cover the miles without feeling like we are rushed. Some days we will only walk for ½ day, since we will have other activities to do. Past experience says we generally walk about 2 mph during the trek. This is the average speed of somebody walking down the street in your town.
When you say "average fitness", what do you mean?
The primary determiner for you should be whether or not you experience physical symptoms that would make daily walking uncomfortable or unsafe. Certainly, if you have heart, joint, or other serious medical conditions you should not apply. If you are not a regular exercise walker, we suggest that you purchase an inexpensive pedometer and wear it for several days prior to coming. Many people are surprised to discover how far they walk during their average days while at home. We have never had a trekker who was unable to complete the journey because of the physical demands.
What happens during the evening sessions?
We will meet most evenings for 1-1 ½ hours, either before or after dinner. The sessions are designed to help you reflect on who you are, your hopes for the next period of your life, and commitments you want to make involving activities, careers, relationships, and personal development. They are designed with a variety of short activities including telling stories, writing short reflections, silence, and sharing ideas. This is not therapy! This is not forced sharing of stories you are not comfortable telling the world! We want you to look forward to gathering with other participants and getting and giving inspiration.
What other costs might I have beyond the registration fee?
We cover accommodations, in-country travel which is part of our itinerary, breakfasts, guides, and evening facilitation. The registration fee does not include your airfare, and you are responsible for your lunch and dinner costs. Trekkers often bring a little extra money to purchase mementos along the way.
What is the "in-country travel" you refer to in the previous question?
Our route involves us taking several short bus, train and ferry rides. Previous trekkers have told us they enjoy these rides as another way to see the countryside and also to spend time with local residents. Some of us like the chance to rest our legs!
Is it possible for us to get lost?
We are not in remote wilderness. We are walking between towns on established trails, across farmland or woodlots, on country lanes, and beaches.
Will my health insurance cover me in the United Kingdom?
Many health plans cover travelers going outside the USA, but you should check with your specific provider for coverages and what to do in case of illness or accident in order for your insurance to cover the costs. Most health insurance websites have information for foreign travelers. It's a good idea to bring your health insurance card. The organizers of this trek do not provide insurance of any type for participants.
What are the accommodations?
We are staying in a variety of different hotels and inns, all of them average quality. This is not a luxury tour! The registration fee is based on double-occupancy. Note: with the exception of couples who may come on this journey together, we try to switch roommates each night so you have more opportunity get to know everyone.
What about getting money when I am trekking?
There is easy access to ATM machines in most towns, and credit or debit cards are widely used. We recommend participants notify their bank of travel plans prior to departure.
What about bringing electronic gadgets?
There is no right answer to this. Many trekkers come on trips specifically to get away from the usual demands of staying connected all the time, and believe bringing a cellphone offers the basic contact, email, and emergency connecting they need. Other trekkers are so dependent on their laptop they can't imagine leaving home without it. One additional note: If your electronic devices are stolen, we will not cover the cost of replacement. We have never had a problem with thievery, but it is always a possibility when traveling.
What about getting work done while I am trekking?
We strongly recommend you NOT plan on getting significant work done while on this trip. You will not have the available time, and experience tells us it usually interrupts a trekkers ability to really be present with other trekkers and the beauty we will be surrounded by. Many trekkers do some brief checking in with home or work in the evening to catch up with important details.
If I choose not to bring electronics, what do I do about emergencies?
The guides will have cellphones with international calling plans and laptops which you can use in an emergency.
Do you have recommendations about setting up my phone for foreign use?
Most of the places we will stay have wi-fi available at no cost, so you do not need to purchase an expensive data plan for your phone prior to departing. Many trekkers add international texting to their phone plan for the time they will be gone, since it's a reasonable cost to do so. It's difficult to find inexpensive international calling plans, so most trekkers rely on texting and email, and use phone apps like WhatsApp to make internet phone calls.
Why isn't this trek on the Trek Epic website?
Trek Epic has a focused mission of serving young adults 18-24 years old, so this adult trek is not a part of its established mission or activities. The Trek Epic guides are doing this trek as a side activity for adults who have told us over the years they would like to go on a trek.
If you have other specific questions, don't hesitate to contact:
Andrew Bryan, Trek Guide
Email
208-484-5835

If you would like to participate on the Pembrokeshire Coast Pilgrimage, please request a registeration form below.  A form will be emailed to you directly.  The registration process is two-fold:
Request a Registration form
Once received, fill out the registration form
Pay the $500 deposit (via PayPal). The deposit is non-refundable after March 5, 2017.
Final payment of balance due one month prior to departure.